The Roxy Theatre presents
Gallo


with

Los Pinguos

/

Magic Bronson

/

Corizon Atomico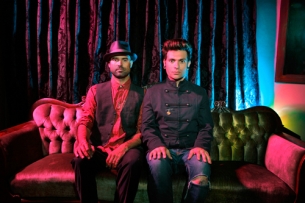 Tuesday, Sep 11, 2012 7:30 PM PDT
Roxy Theatre, West Hollywood, CA

We're sorry, there are no tickets currently available through TicketWeb.
GALLO [pronounced Gah-yo] is the new Los Angeles based, multi-lingual, worldbeat band created in 2012 by Kinski Gallo and his brother, Rodax – the frontman and bassist, respectively, of the highly acclaimed, award winning rock band, Monte Negro.
After almost 10 years of delivering music geared towards alternative audiences around the world, Kinski and Rodax formed GALLO to pay homage to their various defining influences: ranging from funk, cumbia and reggae to soul, punk rock and electronica.
GALLO is currently in the studio putting together their new high-energy record, FUEGO, as well as an acoustic/electronica sister album, CITLALI SOLARIS. Both are due to be released this summer, supported by a US national tour. To sweeten the pot even further, expect to see collaborations with some incredible, high profile artists from a whole spectrum of musical inclinations.
And, as always, Kinski and Rodax will deliver cutting edge, engaging videos to accompany a select number of these new works. These videos will be available on iTunes and Amazon, along with bonus tracks and hand crafted artwork by Kinski himself.
Kinski and Rodax are seasoned veterans of the international music scene. When touring with their rock band, Monte Negro, they shared the stage with a variety of mega-acts ranging from Gwen Stefani and Nine Inch Nails, to Café Tacuba, to Zoé and Enanitos Verdes.
Originally hailing from Guadalajara, Mexico, both Kinski and Rodax found their early Latin music influences within their own large family, looking primarily to their father who was, himself, an accomplished mariachi singer. They were surrounded at all times by traditional romantic ballads, boleros, and norteñas. In their early teens, they moved to Venice, CA where they were further exposed to all that American radio had to offer: rock-n-roll, new wave, punk rock, and electronica. Over the past years, Kinski and Rodax, have at various times made music from every one of these genres, all the while striving to stay true to both their Latin American roots and to their contemporary Anglo inspiration.
So finally, as GALLO, the brothers are masterfully combining the traditional and the modern to present an amalgamation of their rich experience and talent. Much like fitting together the pieces of a musical puzzle, GALLO is crafting a unique and gratifying concept: a cross-pollinated and eclectic sound that seamlessly and organically melds together their Latin, Anglo and worldbeat influences.

Processing your request, please wait....