Carolines on Broadway
Breakout Artist Comedy Series: Tim Whalen & Jack Nolan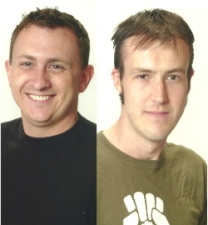 Please call 212-757-4100 to make a reservation
BREAKOUT ARTIST COMEDY SERIES: TIM WHALEN
Timothy Whalen is a stand up comedian from upstate New York.  Tim's Irish Catholic background and "question everything" mentality resulted in his obvious distaste for authority. After wasting his Catholic school education, Tim became a United States Marine where he met future fellow New York stand up comic Jack Nolan. Together Tim and Jack bEgan developing their unique views on the military, the world, and life in general. After the marines Tim became a New York City firefighter, giving him a rare peek into the personal lives of New Yorkers at their very worst, which is evident in his comedy. The culmination of these life experiences and tim's own personal views produce a style of brutally honest comedy that is sure to amuse and offend. Tim began his comedy career in the spring of 2010 after completing the Caroline's School of Comedy with Linda Smith. Since then tim has been a regular on the best of new talent night at Carolines on Broadway. He has also performed at such clubs as Gotham Comedy Club and Stand Up NY. Tim has also competed in the Carolines Comedy Madness Competition.
BREAKOUT ARTIST COMEDY SERIES: JACK NOLAN
Jack Nolan is a New York City based Standup Comedian. Jack grew up an hour upstate in New York's Hudson Valley Region where his main comedic influences as a kid were George Carlin, Bill Hicks, and Sam Kinison. Jack's comic identity is rooted in his dark Irish Sense of Humor and background as well as his time spent in the Marines, where he met fellow future NYC Comedian Tim Whalen. While his past experience isn't typically the focus of his comedic style, Jack's true grit and real world history, validate his appeal as one of New York City's top up and coming standup comics. Jack began his presence as a New York Comic only 2 short years ago by training under Linda Smith, and becoming a regular on Caroline's New Talent Night's as well as New Talent Showcases at Gotham Comedy Club and Standup NY.


Groups of more than 12 please call (212) 956-0101 x203


Processing your request, please wait....