Th3rd Thursday Presents:
RIDERS AGAINST the STORM LIVE and DIRECT @ Fete


w/ special guests

Big Scythe

and

Swann Notty

,

Caliph

,

DJ Kellan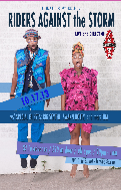 ...
more

►
Thursday, Oct 17, 2013 10:00 PM EDT 2013-10-17T22:00 (9:00 PM Doors)
Fete - Lounge, Providence, RI

Tickets will be available at the door!


ALL AGES
Thursday - 10/17/2013
Tickets: $7 ADV. $10 DOS.
Doors: 9pm - Show: 10pm
Fete Lounge
For the first time in five years RAS is returning to Rhode Island for one night of amazing performances.
Riders Against the Storm are: Chaka (MC/vocalist), Tiger Lily (MC/vocalist), Ridd Lore (Beats/Digital Percussion)
When you decide to dance between the stitches, you will find the funk. When you flash the world with furious and fantastic regalia, you incite passion. When you call people into a space they truly desire, you facilitate change. Under the banner of "Party 'Til Dawn" stands Riders Against the Storm (RAS), curating the above mentioned attributes, for whatever audience is in attendance.
The award-winning husband and wife hip-hop duo do more then put on a hair-raising show. There is the sense that the unseen currents between everyone within radius of the stage has been turned on electrically - as Chaka Mpeanaji and Tiger Lily humbly accept their role as conductors.
Chaka is a man with the knack for structural development and raw urban art with mystical edges. His career stretches from teaching in High School classrooms to guerrilla art installations, from promoting youth entrepreneurship to outfitting trendsetters with his NefrFreshr (Never Fresher) clothing/accessory line. All of these qualities are visible in the platform that has been set for Riders Against the Storm's reach and growth. A native son of Pittsburgh, Mahone finished his formal education in Providence, RI. There he spent countless hours in the community organizing, and uplifting the possibilities of the deserving "underserved". While in Providence Rhode Island, he met his wife, and magic ensued.
Tiger Lily is a performance artist, lyricist and healer. Her healing work focuses primarily on young women; urging them to abandon thoughts that stand against their innate power. Her performance exudes the same to all that are present at any show. Tiger Lily was born in Brooklyn to an undeniably charming Haitian family. Her lineage is strewn with patriots/liberators, mystics and coquettish elegance. Family dynamics brought Tiger Lily to Providence RI, and organically into the alignment of the century with Chaka Mpeanaji.
While in Providence, RI they recognized their role in the shifting of communities. Their presentations became the art of bringing people together. While communing with group after group, they soon saw how much more easily people were motivated and open for information. They later found out that that was the essence of ceremony. They crafted their signature experience and moved to Austin, TX to spread their offering to "The City of Music".
Aside from headlining many shows throughout the country, RAS has opened for national recording acts, including: K'Naan, KRS-ONE, Wu-Tang Clan, Raekwon, Talib Kweli, Yasiin Bey (Mos Def), Slick Rick, Nas, Rakim, Damian Marley, ?uestlove (of The Roots), Antibalas, Devin the Dude, The Coup, Michael Franti, Dead Prez, and Kid Sister.


RIDERS AGAINST the STORM LIVE and DIRECT @ Fete
w/ special guests
Big Scythe
and
Swann Notty
,
Caliph
,
DJ Kellan
and
DJ Cruz